Episodes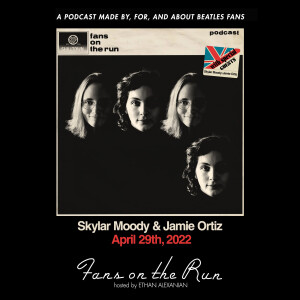 Friday Apr 29, 2022
Friday Apr 29, 2022
It's time for another episode of Fans On The Run, and much like last episode, this was recorded on location! For the first time in FoTR history, I got the chance to talk with TWO people at the same time; a sort of Beatles TikTok (BeatleTok) Mount Rushmore if you will. Joining me today are Skylar Moody and Jamie Ortiz!
In what may be the most "Gen Z" episode of the show yet we talk about impulse purchases, Beatle fashion inspiration, a friendship forged through TikTok, heated debate, Yellow Submarine plush slippers, and much more!
This episode is available to stream wherever good podcasts can be heard!
Keep up with Skylar:
TikTok @lucyinthesky.lar
Keep up with Jamie:
TikTok @marnernarasauce
Follow us elsewhere:
https://linktr.ee/fansontherun
Contact:
fansontherunpodcast@gmail.com